CanAirIO Bike Device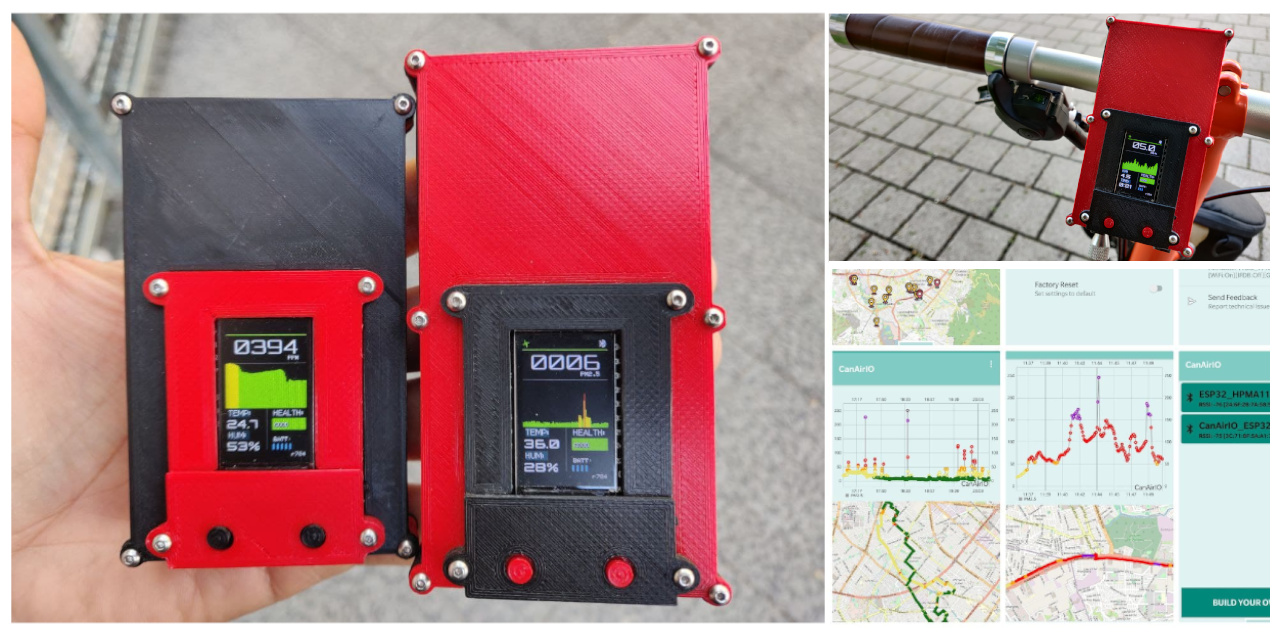 Overview
CanAirIO Bike try to motivate collaboration from cyclists or people that use it to have mobile tracks of air quality. We have two new device versions, CanAirIO bike with PM2.5 sensors (Sensirion SPS30) and CanAirIO CO2 (Sensirion SCD30), the latter for sensing the right ventilation in indoors or into the public transportation to reduce COVID-19 risk.
Also CanAirIO firmware supports more sensors if you want make a different variant.
Features
These devices able to work in standalone mode without clouds, apps, Bluetooth, WiFi, etc. but also you could have the next features:
Citizen Science community
CanAirIO is Open-Source / Open-Design / Open-Access
Two modes: mobile (Bluetooth) or fixed station (WiFi)
AQI graph with colors for PM and CO2 values
Standard Bluetooth low energy device (GATT)
Automatic remote firmware updates
Two action buttons with some shortcuts
Good quiescent current ~173uA
USB Type C interface (support charging on power off)
Mobile station features
GPS data tagging via CanAirIO app using Bluetooth Low Energy
PAX Counter capability (it counts the persons around you)
Two device faces: Air quality or Bike mode screens for now.
Some built-in functions: Brightness, AQI graph, sample time, Wifi On/Off, calibration, etc.
Fixed station features
CanAirIO cloud alternative : Basic remote dashboard and database
Custom InfluxDb alternative: Store all data in your own instance
MQTT clouds (coming soon)
Sensor Community and other open clouds (coming soon)
Building Guide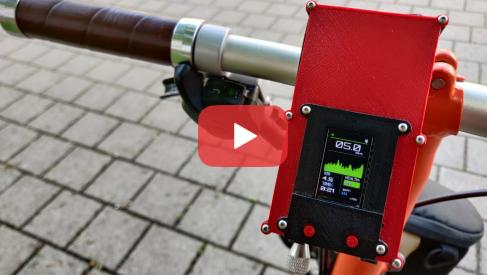 Soldering improvements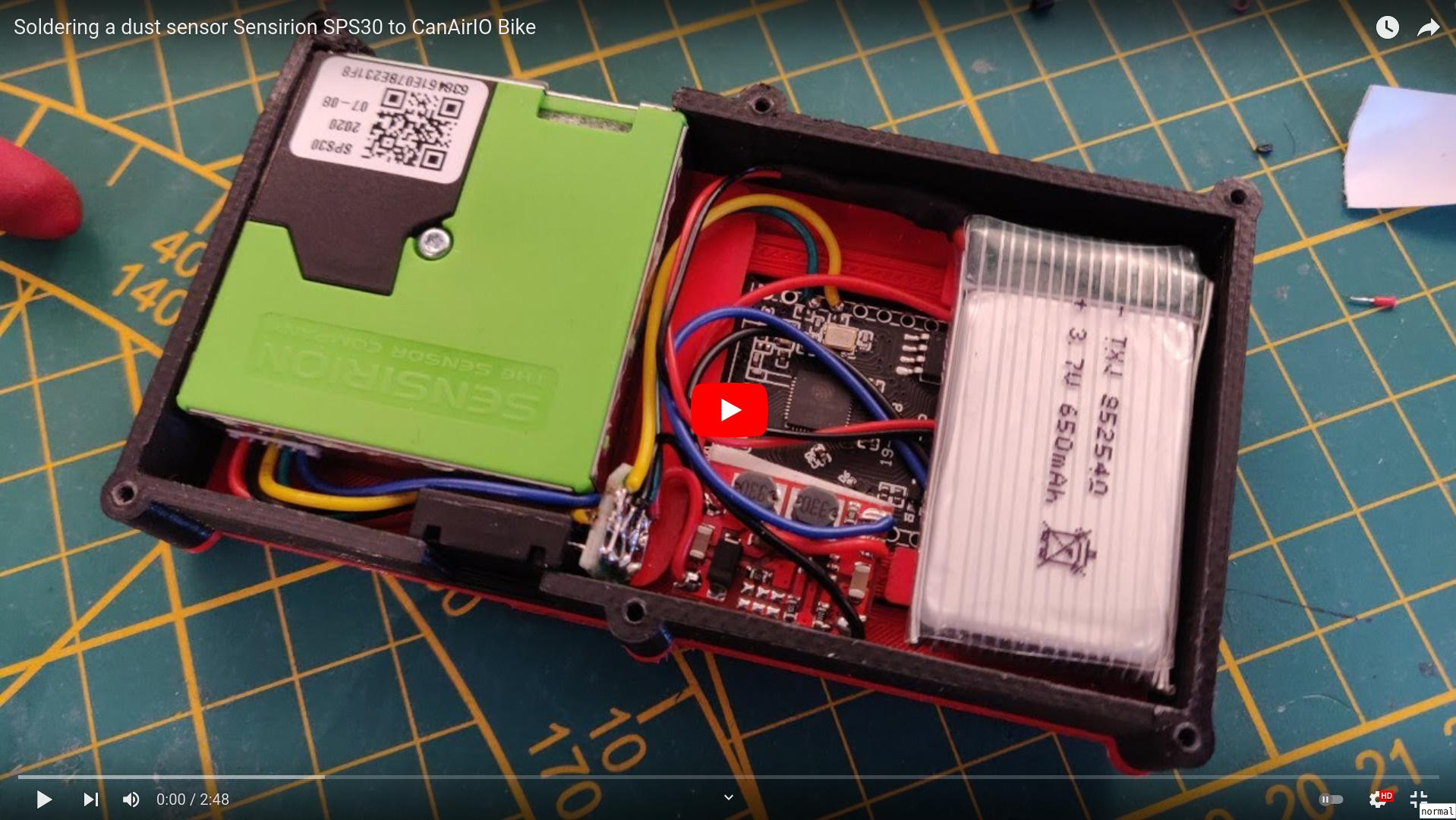 Components
Main parts that you need are the next, but maybe you could have this components in different shops.
Notes:
Screws M2x4(4), M2x5(8), M2x6(2), M2x7(2).
Similar battery, same voltage, similar capacity but with dimensions max: 48x30x6 mm.
3D Printer box
Please enter here for details and follow some instructions, but:
---
** W A R N N I N G **
The full updated and last versions for all box versions, are in the official repository because it is more easy for handling the versions than Thingiverse. This page it is only a guide.
---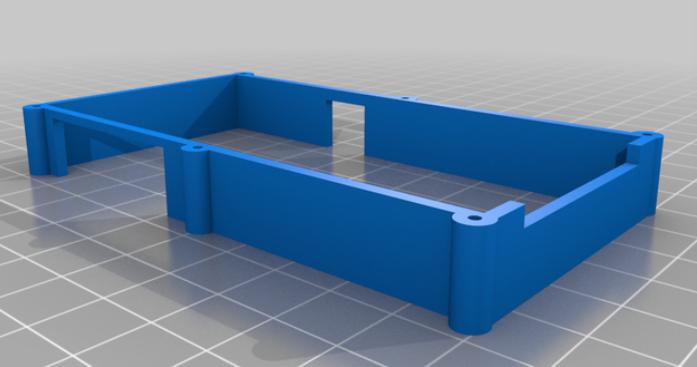 Instructions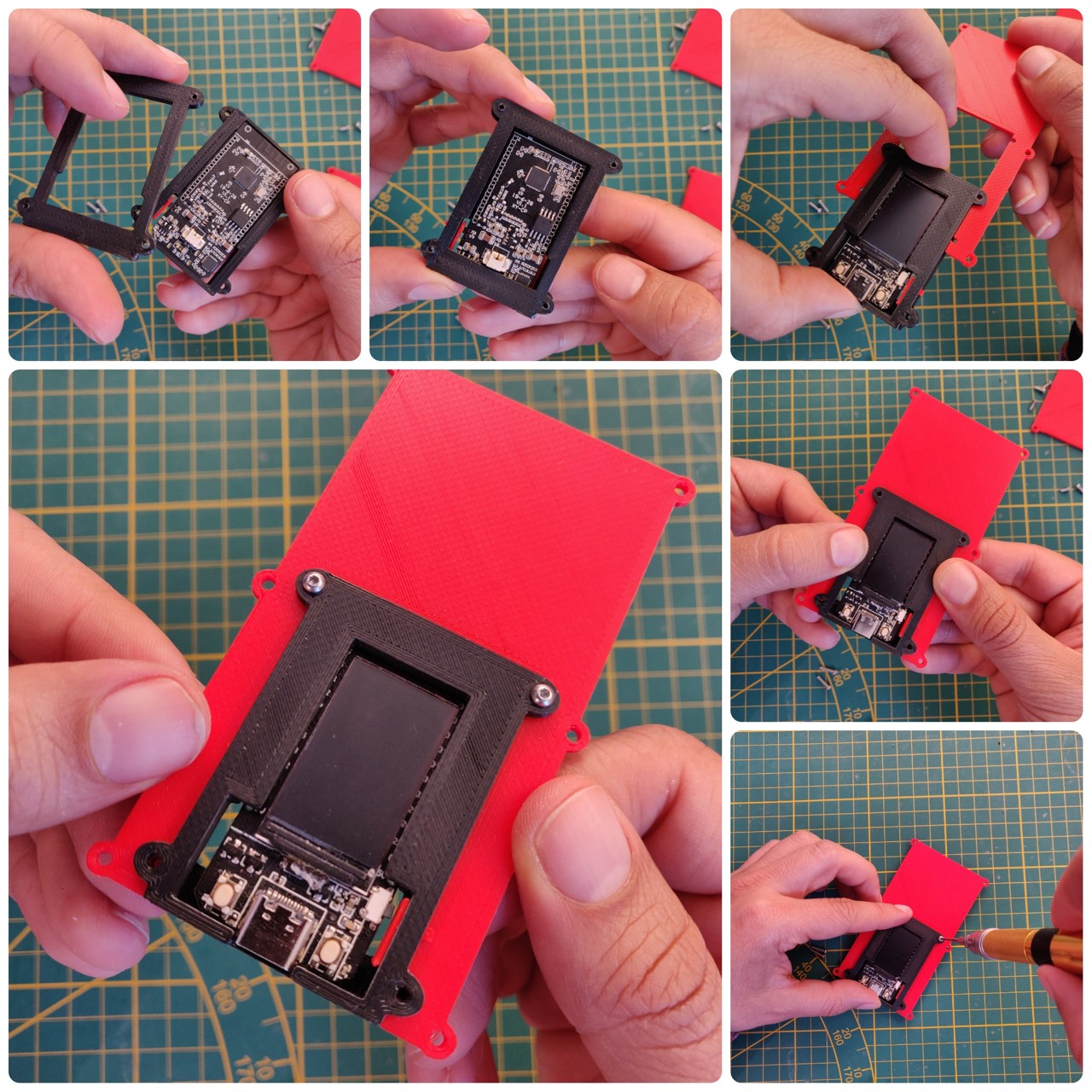 Complete list of steps and instructions here.
Schematics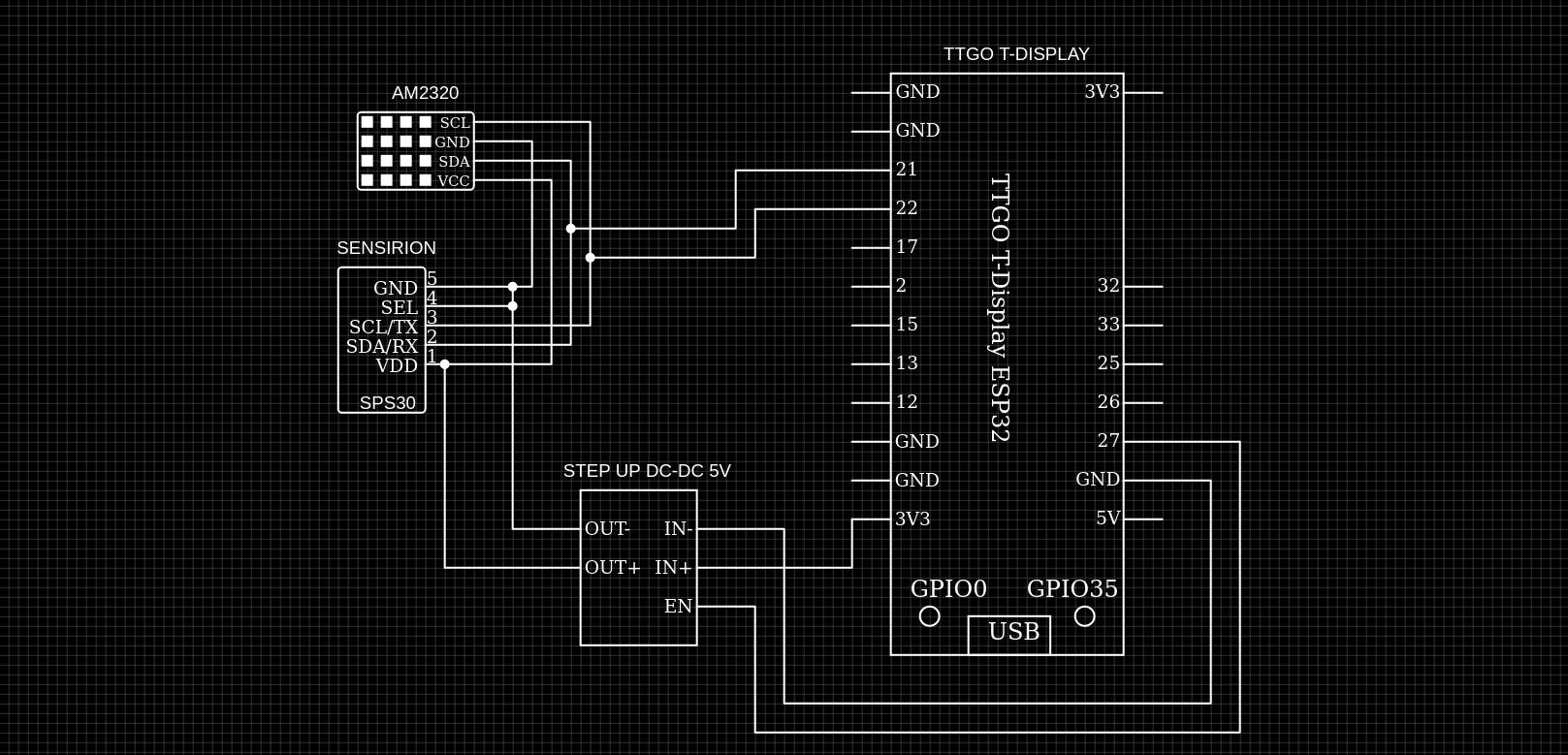 Please note that it is a general diagram, for details of pin connections please review the datasheet of each component. For example the next diagrams:
SPS30 pinout diagram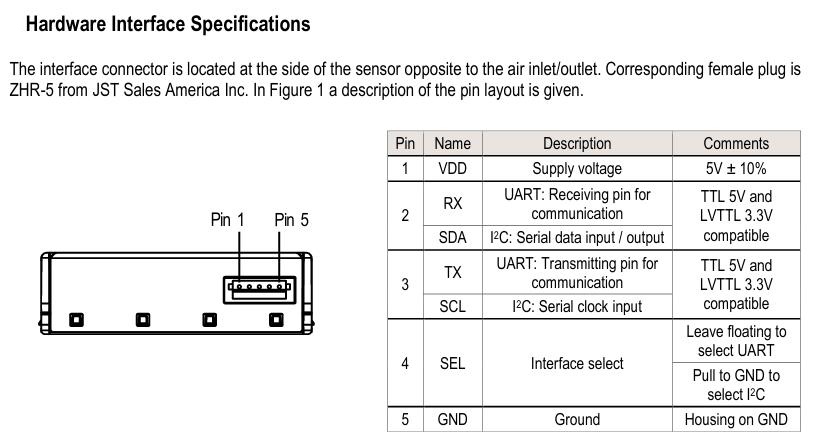 AM2320 pinout diagram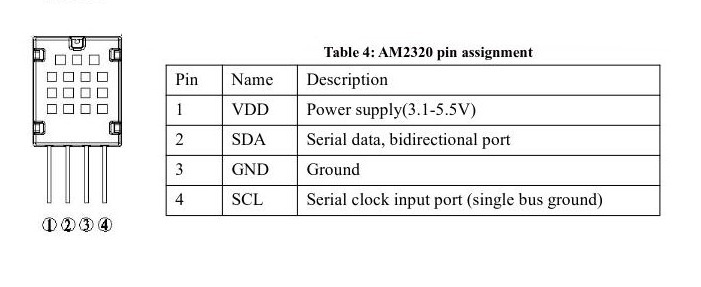 Firmware Upload
We already have a super easy way for install CanAirIO firmware on any compatible Arduino ESP32 board like a TTGO T-Display board, (CO2 and bike versions), in a few seconds:
More info in canair.io/installer
Other alternatives for upload the CanAirIO firmware, here.
Quick start guide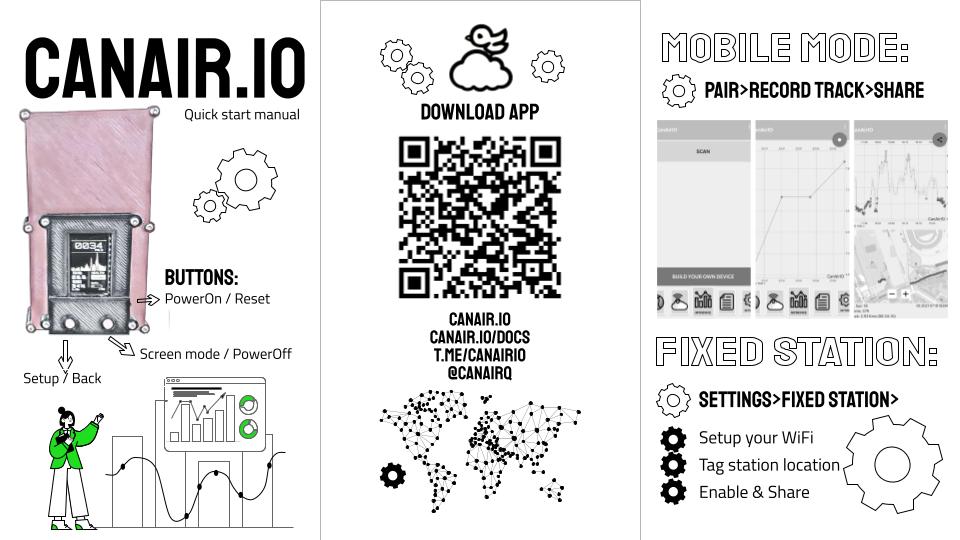 Specifications
| Specs | CanAirIO Bike | CanAirIO CO2 |
| --- | --- | --- |
| Main board | TTGO T-Display | TTGO T-Display |
| Air quality sensor | Sensirion SPS30 (PM) | Sensirion SCD30 (CO2) |
| Environment sensor | AM2320 T&H | SCD30 T&H |
| Auto calibration | Factory | Manual |
| Sensors Units | PM (1.0,2.5,10 mg/u³),°C,%RH | CO2 (PPM),°C, %RH |
| Track Units | Kms, HH:MM:SS | Kms, HH:MM:SS |
| Firmware updates | OTA / remote | OTA / remote |
| CanAirIO Cloud | Included | Included |
| Recommended on | Outdoor**/ Indoor | Indoor |
| Dimmensions | 57x24x101 (mm) | 57x20x87 (mm) |
| Weight | 95g | 52g |
| CPU | ESP32 Espressif | ESP32 Espressif |
|   | 240MHz Xtensa® Dual core | 240MHz Xtensa® Dual core |
| Flash | 16Mb | 16Mb |
| WiFi | Yes | Yes |
|   | 802.11 b/g/n | 802.11 b/g/n |
| Bluetooth | Yes | Yes |
|   | v4.2 BLE standard | v4.2 BLE standard |
| Battery | 650mAh ~ >=4h | 650mAh >= 10h |
Disclaimer
For review our disclaimer, policy privacy and warranty of CanAirIO Bike device. please enter here